Johnny Depp blurs the lines between his life and his films. His wardrobe – the weather-beaten hats, wrinkled shirts, stained bandanas poking out from the back of his shredded jeans that are barely held together by duct tape – is more befitting of an eccentric character he might play, perhaps a sad-sap vagrant or a struggling grunge guitarist, than the star of the highest grossing films in history. But his cool vibe and sex appeal are undeniable; they come from a sense of authenticity. He jams with Eddie Vedder. He chain smokes with Keith Richards. He had his head shaved by Hunter S. Thompson in the man's basement. But it is looking like he was unloaded from a Salvation Army dump truck that convinces us he is the artist he appears to be.
His outfits are clothes that he has self-reportedly worn out over time, with a recent exception: his A.S. 98 boots. Made to look like they dangled from a telephone wire for 30 years or walked along the plank of the Black Pearl, the Italian leather boots are a swashbuckling pair seemingly designed specifically for Depp.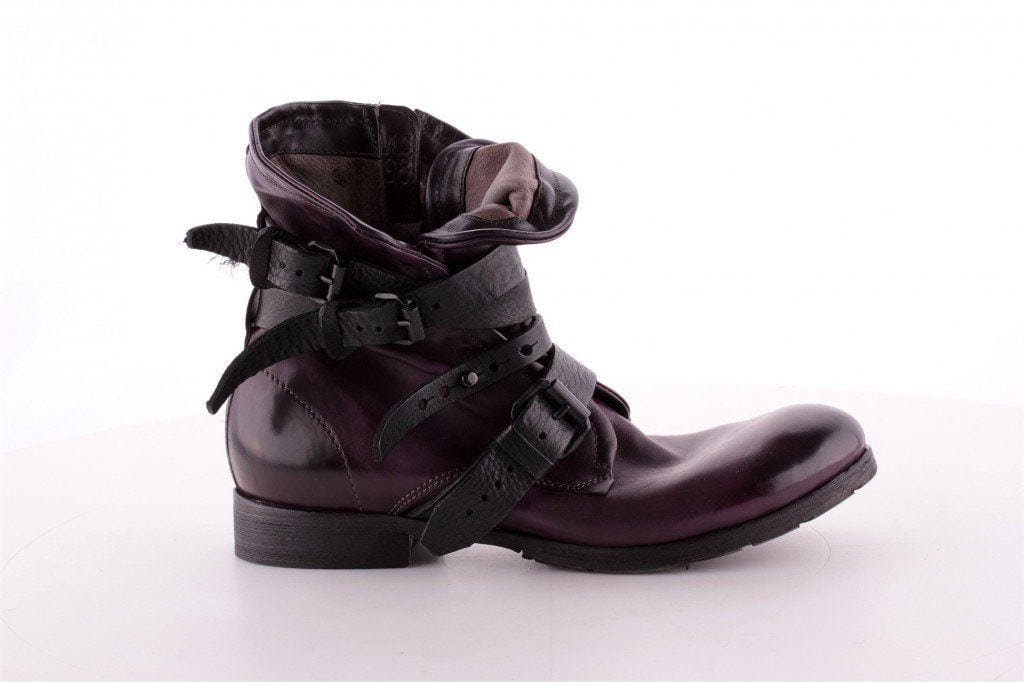 In fact, they sort of were. The company has always specialized in handmade leather accessories and excelled in women's footwear. Originally marketed as "Air Step," it used to skew toward an older demographic of men with a comfort line of boots. They were clean and simple. But about five years ago, A.S. 98 redesigned the brand, hell-bent on making a fashion statement. Inside the small factory in Verona, Italy, designer Martino Turri tacked a magazine cutout of Johnny Depp up on the wall. The company had found its new model (that Depp was unaware of this did not matter) and new vision: designer homeless for the aging celebrity outlaw. Depp's image is still there today, practically worshipped like an ancient idol, a rain god that revitalized the company and gave it prosperity.

The brand finally broke through in Europe, particularly in Berlin. But it wasn't until a 16-year-old fangirl spoke up that the company finally connected with its muse. Liana Colagiacomo told her father Romano, an A.S. 98 distributor out of Montreal, that he should send a pair to Depp. Romano selected a heavily creased, three-buckle pair ideal for Jack Sparrow. Depp slipped on the bedraggled-looking boots and, like with Cinderella, they were a perfect fit. Romano saw photographs of Depp wearing the boots while promoting "The Lone Ranger" in Tokyo. Soon, Depp reached out to Romano with a request. He wanted some pairs shipped to his friends "Keith and Ronnie." Those would be Keith Richards and Ronnie Woods of the Rolling Stones.  
"You've got to be on the edge to wear A.S. 98," Romano says of the shoe line's rebellious clientele. "I don't see a banker wearing A.S. 98." And of Depp's seamless fit for the company, Romano says, "The grungy look, the hobo-like look, it fits his picture perfectly."
Sold from $300 to $500, A.S. 98 men's shoes attract attention because they show genuine handcraft. The full-grain leathers are distressed with selected creams. They are washed and brushed with alcohol, special liquids and some secret additives. The different intensity of brushing and the additional reworking of the seams create a rough look. As there are no identical pieces of leather, every single pair is unique, finished with  metal studs that are applied manually.
Even the soles of the shoes look well-traveled. For one model, the sole is a dirty cream color with dark splotches like gum residue that had hardened and blackened permanently. The texture of it looks like wax that has been chipped and pockmarked with an ice pick. Model No. 330201, the boot Romano sent to Depp, stands out because of its comically, impractically oversized buckles and zipper. The buckles are warped, as if dented with a hammer, and wrap around the front like the broad fingers of some Martian species. Only the ball of the sole is rubber – a rubber blotch – while the rest is leather that looks like barn door wood. "They have unexpected details and the company will put things in places that costs extra money, but they're not afraid to do it," says Ron Kenigsberg, the U.S. distributor for A.S. 98 out of Miz Mooz off of Canal Street in New York City. Kenigsberg likes the models that have a "spat look," resembling part of American military uniforms worn the 1900s. "Here you have a boot that really has a double layer of leather," he says, picking up a tattered-looking boot with a metal ring round the heel that he says gives it an "industrial edge." "Leather is not cheap, so to do that takes a certain commitment. Even if you take a look inside, this piece right here," he says, pealing back a flap behind the tongue, "serves no function at all. There's a boot inside here that you're putting on. It serves no function. It is just for design…I think it's bold and different."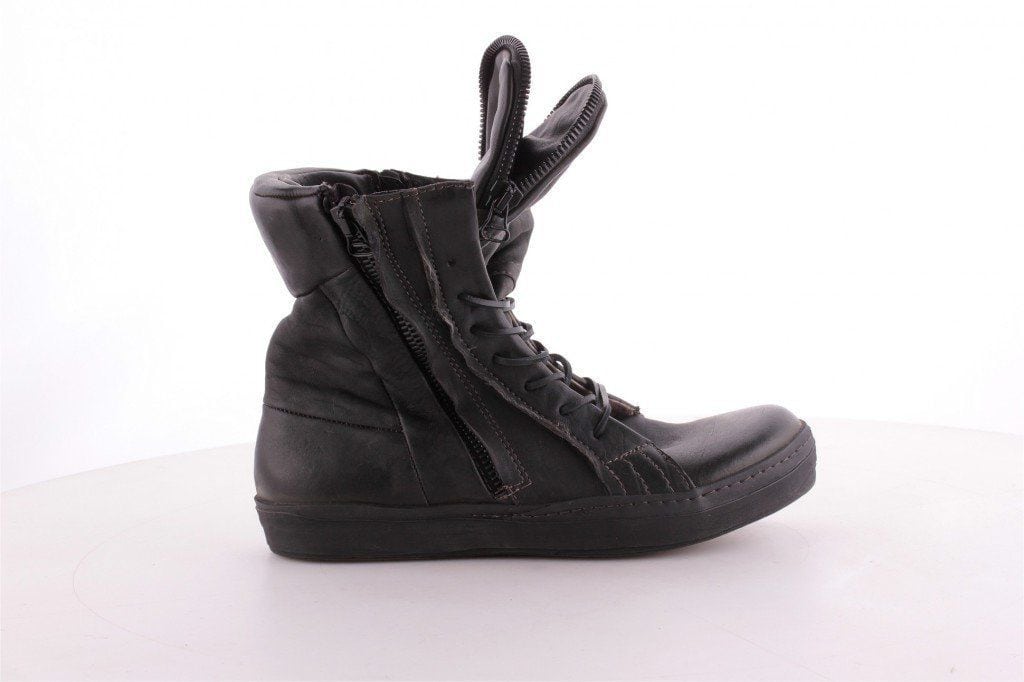 The sneakers, with leather laces, are just as unexpected. A trapezoidal piece of leather is adhered to the side of the shoe and is decorated with rusty studs. The tongue is barely held together by two stiches. "It looks like someone put it together in their garage," Kenigsberg says. Frankly, that is how the brand came together inside the workshop in Verona. Now sold from 130 store locations in the U.S., including a new home at the Fred Segal shop opening up in the SLS Las Vegas, anyone can walk out wearing a shabby/chic pair from the fall collection. "He really is inadvertently dictating fashion for a lot of people," Kenigsberg says of Depp. "I don't think that that's his mission, but the guy that you want to be around, that you feel like you can talk to is kind of the guy you want to look like, the guy you want to emulate." A.S. 98 certainly helps anyone look the part of a rock star, but it is hard to imagine it will be that easy to boast the same coolness as Depp. Depp has the sharp looks and aura to distinguish him. Without those, someone risks paying $500 just to look homeless.